Company Profile
 

The Nakamura Chaho corporation was founded in 1884 in Matsue as a separate branch of the Nakamura Suekichi firm, a tea distributor based in Uji, Kyoto. Suekichi was famous for his talent as a tea taster but also as the person who conceived and built the first electric tea grinding machine in Japan. The firm became a limited liability company in 1945. Mr. Akira Nakamura (Suekichi's grandson) took office on November 1, 1981, as the third president.
Our company has the following features. First, to please our customers, we endeavor to make high quality products. Nearly half of our leave supply is produced organically, and for the other half we require an analysis certificate, seeing to it that the leaves are free of chemicals. Moreover, we do not use additives in the blending process in our facilities.
Second, we stick to both modern and traditional values. While promoting innovations, we maintain the traditional assets acquired by the company during its more than one hundred-year history. We have got a three-tatami tea room ("Shogin-an") of the Fumai Tea Ceremony style (left). We have also acquired a hanging scroll of calligraphy from the same Matsudaira (right). It contains the letter in which he named his favorite tea, the "Naka no Shiro Tea."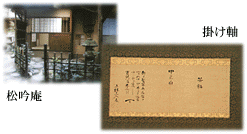 Matsudaira Fumai, Matsue's seventh Matsudaira daimyo, was the most famous tea master of the Edo era. He made a strong impact on the Japanese tea ceremony and the Japanese culture.
Third, we combine the experience of people of various horizons, ages, and backgrounds. The company president, in his 70s, is assisted by a general manager in his 40s. We also work with foreigners here and have correspondents abroad. Our ultimate goal is to develop both domestic and foreign sales.
We have 34 employees organized in three divisions and five sections.
---
---
Copyright (C) 2006 Nakamura Chaho Ltd. All rights reserved.